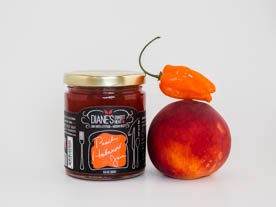 Peach Habanero Jam
Ripe peaches add the body to this luscious jam, accentuated with a spicy edge to add some crackle to your palate.  A versatile flavor that pairs well with cheese and is delectable swirled into vanilla ice cream.
Ingredients:
Red bell peppers, pure cane sugar, peaches, apple cider vinegar, fruit pectin and habanero peppers.
10.5 and 5 oz. jars available. 
Order your jar now!

*fruit pictured not included